Examining the ICT Level of Projects Done by Teachers on Social Networks in Turkey in Terms of Different Variables Example of eTwinning Activity
Keywords:
eTwinning projects, Use of technology, Teachers and technology
Abstract
In this research, the competency of teachers using technology in eTwinning projects was evaluated in terms of different variables. The research was carried out in the causal comparison model. The research participants consisted of 42.745 projects that applied to the eTwinning quality label in Turkey in 2022. The data of the research were obtained from the evaluations of the technology used in the projects during the project evaluation process of the eTwinning National Support Organization of Turkey. The data of the research were analyzed with descriptive statistics. As a result of the research, it was found that female teachers with a quality label, teachers having international projects, teachers working with children in secondary and high school, and teachers with more project experience use technology better in their eTwinning projects. The technology competency of teachers living in the city center is similar to working in the countryside. According to these results, studies can be carried out for male teachers to improve their competency level in technology in eTwinning projects, and more incentives should be given to them to do projects; training to teachers should be given according to the school types.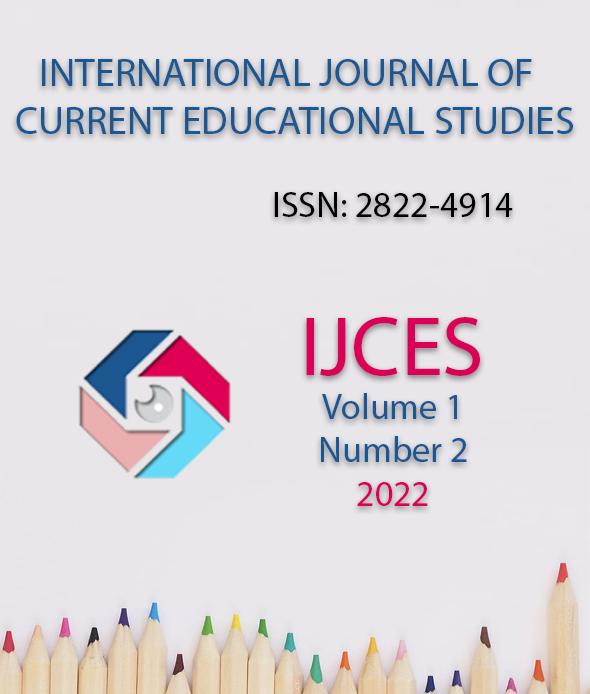 Downloads
How to Cite
Döğer, M. F., & Kurnaz, A. (2022). Examining the ICT Level of Projects Done by Teachers on Social Networks in Turkey in Terms of Different Variables Example of eTwinning Activity . International Journal of Current Educational Studies, 1(2), 63–89. Retrieved from https://ijces.net/index.php/ijces/article/view/25
License
Attribution-NonCommercial 4.0 International License (CC BY-NC 4.0)